The Harley Street ENT clinic in London can provide all of the care that you need when you have an ear, nose, throat or balance problem. We ensure that you can get all of the right tests, treatments and advice in one convenient place.
Our Harley Street Clinic
We aim to be a one-stop clinic where you can get specialist care from an experienced ENT surgeon. When you visit our state of the art ENT clinic in London, you will receive the highest quality care in a comfortable setting. We have all of the latest equipment and our own diagnostic lab where we can perform everything from endoscopy to microscopy. The Harley Hearing Centre within the ENT clinic is the place to get help with your hearing aids, while our in house pharmacy makes it easy to pick up your prescriptions.
Our experienced team of ENT specialists can diagnose and treat all kinds of ear, nose and throat problems as well as balance and sleep disorders. Whether you need an ear specialist in London to help with your child's recurring infections or a nose specialist who can tackle your snoring, our clinic can help. From your initial consultation to your final treatment, our ENT surgeons will be there to provide advice, answer your questions, and help you to feel better.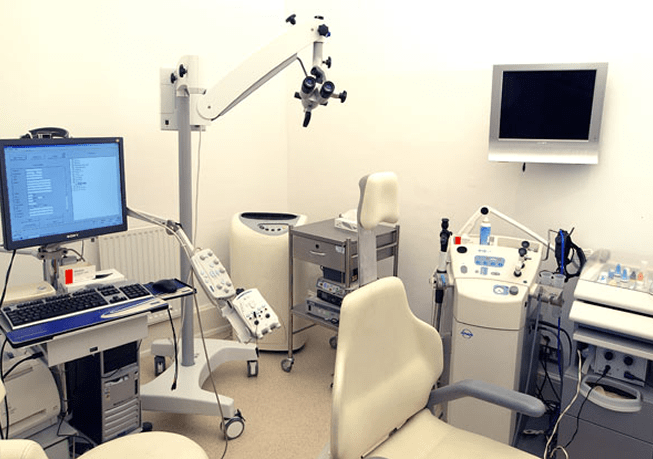 ---
Visiting the Clinic
When you visit the ENT clinic in London, you will meet with one of our experienced consultants in a comfortable consulting room. The ear, throat and nose specialist will usually begin by asking about your symptoms and medical history. You will then have a physical examination, which may include some ENT specialist tests. The tests you need will depend on your reasons for visiting the clinic.
For example, if you need an ear specialist you may have your ears examined with an instrument called an otoscope and your hearing tested by an audiologist. If you are seeing a nose specialist at the London clinic, you may need to have an endoscopy to look inside your nose or a swab taken to test for infection. We can perform a wide range of tests to check on your ears, nose, throat and balance. Many of these tests can be carried out by the ENT specialist at your initial consultation, but you may need to arrange a separate appointment at the ENT clinic in London if you need more invasive or time consuming investigations.
Once all the test results are in, your ENT specialist should be able to make a diagnosis and provide recommendations for treatment. Ear, nose and throat problems can often be treated with medication, but the ENT surgeons at our London clinic can also perform a range of procedures to tackle your symptoms. Your nose, throat and ear specialist in London will help you to understand all your options so that you can make the best decisions about your health.
Making an Appointment
If you need to see an ENT specialist in London, it is very easy to make an appointment at our Harley Street clinic. All you need to do is get in touch by phone or request a consultation through our simple online form. We should be able to find a time that is convenient for you. Same day appointments are usually available when you need to see an ENT surgeon in London quickly. You can make an appointment directly or visit us with a referral from your GP.
Take a look around the website to find our more about the ENT clinic and the care we provide, or get in touch to arrange an appointment with one of our ear, nose and throat specialists.